So I'm studying the Blues. Strictly armchair. I'd often read that the Blues were important to modern music, but I couldn't _hear_ how they were important. So I started listening to old Blues, to try to suss out the bits that had filtered down. I couldn't find them. See, I was looking for tiny details, focusing on small parts of the sound– focusing so close on the bark of a tree that the forest was completely lost to me. It wasn't until I started trying to play them that I began to see.
There would be no country music without the Blues. There would be no rock. No jazz. Even the various electronic genres owe a debt to the Blues. All good modern music ('good' in my opinion, of course) to come from America flows directly from the Blues. Because the Blues were where African aesthetics of rhythm were joined with European aesthetics of harmony. This is a big deal to me.
here are some quick sketches of a couple of my favorites thus far:
Robert Johnson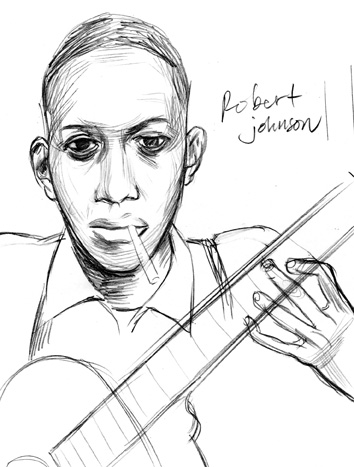 'Mississipi' Joe Callicott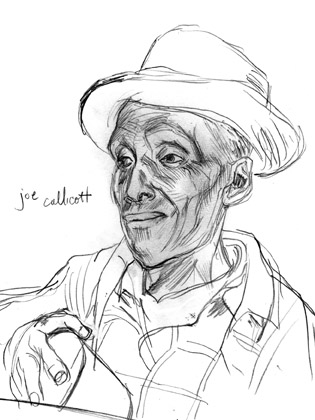 John Lee Hooker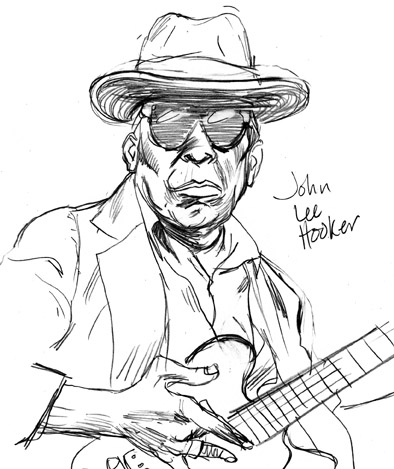 somewhere around here I've got drawings of R.L. Burnside and T-Model Ford as well. Posts 'em when I finds 'em.